NICOLA SCARINGI
journalist, camera operator and video editor
for international broadcasting productions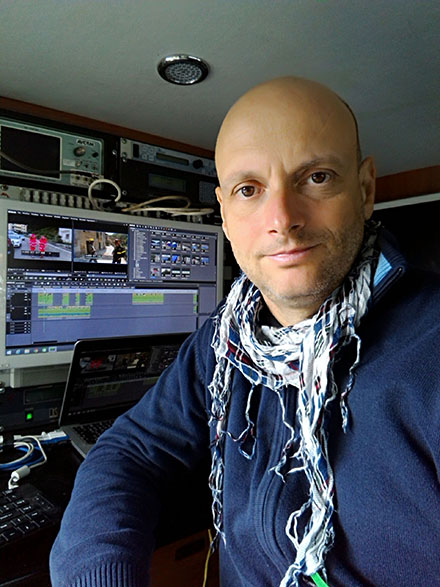 works
Broadcast integrations for international football events (seasons 2014-2015, 2015-2016, 2016-2017 and 2017-2018): Champions League matches for italian television Mediaset and for Spanish television Antenna Tres and TV3 Catalunya; European League matches for Polish television ITI Poland and European Football Championship 2016 for the Portuguese television RTP (video editor and cameraman for behind goal position, pitch presentation position, reverse angle position, flash position, mixed zone).
Broadcasting integration for the italian television Rai for the Italian National football matches.
Host broadcast service for the Italian Football Championship Serie B (season 2015-2016) for Sky Sports (main camera, line low and flash position).
Host broadcast service for the summer training of the italian football team Inter (years 2014, 2015, 2016 and 2017): training sessions, press conferences and friendly meetings (pitch position and main camera).
Host broadcast service for the Cev Champions League Volley for men and women for the seasons 2016, 2017 and 2018 (main camera and handheld camera).
Host broadcast service for Pes League World Tour 2018 (video editor).
Host broadcast service for the italian movie competition Taormina Film Festival and for "I Nastri d'Argento" awards ceremony: troupe eng, video editor and main camera. Years 2014, 2015, 2016, 2017.
Host broadcast service for the Sunday Masses live for the italian television Rete4 (Mediaset) for the years 2015 and 2016.
Video editor and cameraman with backpack and satellite up-link for the most important broadcasts of the italian television: Uno Mattina, La vita in diretta, Porta a porta, Ballarò, Chi l'ha visto, Linea Blu ed Agorà (Rai), Domenica live, Pomeriggio 5, Mattino 5, Quarto Grado, Matrix, Dalla vostra parte, Tiki Taka (Mediaset), L'aria che tira and Coffee break (La7) regarding the most important cases of national news.

Sport
Champions League, Europa League and European Championship
News
Video Journalism for the most important cases of national news
Editing
Video editing for the most important broadcasts
Working
with a lot of important italian and european journalists